CANFIELD CEMETERY
(DOUMECQ PLAINS)
Click HERE to view the satellite map to this cemetery
T29N R1E Sec 19 45.8438N 116.370W

**Special thanks to Terry Cochran for all the work he has done
the last few years cleaning up the cemetery**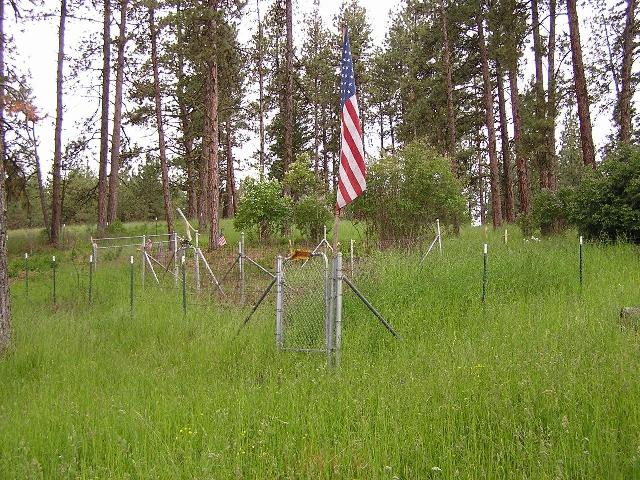 Canfield Cemetery (2009)
(Cemetery. School Sign and headstone photos courtesy of Eldon and Carol Anglen)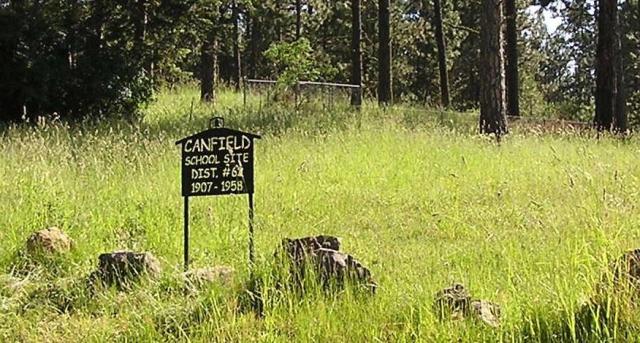 Canfield School Sign
*Information from Mrs. Gerald Smith in 1976 - The Canfield Cemetery is located on the Doumecq Plains - between the Salmon River and the Snake River. It is located beside the old Canfield Schoolhouse site. The records had always been in the possession of a descendent of the original Shinn family that homesteaded on Doumecq, a Maurice Shinn. However, in 1976 the cemetery records were missing. Mr. Shinn suggested to Mrs. Gerald Smith, of Grangeville, that she contact Edwyn Fick, the grandson of William Fick, another homesteader of the early years. This she did. Mr. Fick visited her and was able to give the names of the others that were buried there, but had no markers. She also contacted Mr. John E. Morgan of Moscow, Idaho, whose sister is buried in the cemetery. He was able to give her personal information on the Morgan family.

In 2009, the site coordinator was contacted by Janet Boom, who so graciously gave me even more information about some of the area families and their burials. And another descendant, Carol Choquette shared more information and photos.

If you have a relative that is not listed or you have information on any of the area homesteaders, please email me. I would be happy to add the information to this site.
If you are a family member and want a photo that is not watermarked, please email me. I will be happy to forward one to you for your personal use.
DON'T FORGET TO CHECK THE OBITUARIES FOR YOUR SURNAME.

SURNAME
GIVEN NAME
BIRTH DATE
DEATH DATE
NOTES
PHOTO
Barnet
Infant Boy
.
.
No marker or record of burial - burial remembered by Edwyn Fick

no marker

Barnett
Edith
May 9, 1916
May 10, 1916
Infant daughter of Eugene and Effie Barnett - dates from Idaho Death Index
Campbell
Zeppie (Zepha M.)
March 4, 1897
September 4, 1922
Lived on Joseph Plains - burial remembered by Edwyn Fick -no marker or record of burial - dates from Idaho Death Index

no marker

Campo
Mrs.
.
abt. 1912
Mother of James Campo - burial remembered by Edwyn Fick - no marker (Click for obit)

no marker

Clark
Charlie
.
Dec. 31, 1918
Died of the flu - burial remembered by Edwyn Fick - no marker or record of burial - date from Idaho Death Index

no marker

Cochran
Delbert James
Jan. 22, 1935
Sept. 17, 2007
Cremains

Fick
Edwin "Dutch"
June 13, 1908
Nov 2, 1991
Info from his obit - died at age 83, born in Canfield; son of Vilas & Etta (Hesterman) Fick.

Survived by a brother, Jack Fisk and a sister Enid Fick, and a nephew Bill Fisk of Doumecq Plains

Fick
William
1844
1919
Pioneer homesteader on Doumecq Plains, his homestead was located on the "point" which is now part of the Pete Johnson property.

He was born in Pennsylvania and was a Civil War Veteran.

His son Vilas Fick died in 1938 and is buried in Harrison, Idaho.

Hamilton
Baby
1917
1917
Burial remembered by Edwyn Fick - no marker or record of burial. **New information added 2/8/2012 courtesy of Chris Cornett. See obituary

no marker

Jones
Mildred (infant)
.
abt. 1911-1913
Daughter of Oscar Jones. Died at age 2 years. Burial remembered by Edwyn Fick - no marker or record of burial

no marker

Jones
Samuel Poland
July 20, 1834
Mar. 28, 1913
Father of Oscar Jones. Born in Monongalia Co. WV, died in Canfield.

*notes from Janet Boom - Samuel P. Jones homesteaded in the area and later gave the homestead to Oscar M. Jones. After Oscar married Charlotte they lived on the homestead. When it was sold they moved to Bellingham, Wa. They later returned to Idaho. Samuel ran the Lyon's ferry boat on the Salmon River. He hurt his leg which caused his death in Canfield. There was no funeral home so a good carpenter friend made the casket and the neighbors helped to bury him. Her mother, Elizabeth Shinn and the small daughter, Mildred Shinn, is also in the same place.

no marker

McCulley
Dorothy Ruth
Dec. 28, 1913
Jan. 19, 1920
Double stone with Helen Muriel McCulley

McCulley
Helen Muriel
Apr. 21, 1926
Aug. 16, 1926
Double stone with Dorothy Ruth McCulley

Ripley
Herald M.
May 6, 1917
Aug. 2, 1920
Headstone inscription: "Our Darling"

Ryan
Jesse O.
Aug 13, 1922
Feb. 7, 1995
.

Shinn
Charlie (infant)
.
.
Burial remembered by Edwyn Fick - no marker or record of burial

no marker

Shinn
Elizabeth Geneviev
Mar. 29, 1864
Apr. 8, 1930
Came from Nebraska - Wife of Benjamin Shinn who died in Nebraska.

Headstone Inscription: "Pioneer of Doumecq Plains"

Shinn
Georgia Bousman
Aug 14, 1865
Oct. 8, 1938
Headstone inscription: "Mother" - from Ailor Funeral Home Record: She was born Aug 18, 1865 in Lafayette Co., MO; Died Oct. 8, 1938 in Cottonwood; father Joseph Bousman B. born VA; mother Anna Mary Montage

*From Findagrave.com - Georgia is the daughter of Joseph H. Bousman and Anna Mary Montanye both of West Virginia she married Henry A. Shinn in 1888 in Nebraska City, Otoe, Nebraska their children were Fleecie, Frankie, Joseph, Fannie, Juneth, Horace, Julia, and Betty

Shinn photos courtesy of: Carol Choquette

Shinn
Henry Alexander
Jul 29, 1865
Apr. 10, 1923
Headstone inscription: "Father

*From Findagrave.com - Henry met and married Georgia Bousman in Nebraska. They relocated to Canfield, Doumecq Plains, Idaho and raised their children. Henry was instrumental in getting a school built there for his children and several other families.

Shinn
Maurice
Apr 29, 1918
Apr 4, 1997
Uncle To Many, Friend To All

Smith
Mary Morgan
Sept. 27, 1909
1935
Father was Clarence E. Morgan. Mother, Agnes Morgan, was still living in 1975 at age 87 yrs.

Mary Morgan Smith was born at Canfield, Idaho; married Lloyd L. Smith in 1927; cause of death: lengthy illness; her grave is enclosed in a very attractive iron fence with a very nice tombstone reading "I am the resurrection and the life, John 1:26"

In 1975 she had one son in Fayetteville N.C., a brother John E. Morgan lived in Moscow in 1975. ( From Ailor Funeral record: Agnes Mary Smith b. Sept 22, 1909 at Canfield; d. Oct 6, 1935 at Canfield; father Clarence C. Morgan b. OR; mother Agnes Woods b. England) Clarence Morgan settled on Doumecq in 1893

Toman
Mary
Dec. 20 1905
Mar. 1916
Sister to Mike and Henry Toman

Unknowns
.
.
.
Idaho County Voices states that 4 people died in the winter of 1913 and were buried here.

No names given

no markers

Wells
Albert James
July 23, 1914
Apr 7, 1915
.