DIXIE CEMETERY
Click HERE to view the satellite map to this cemetery.
T26N R8E Sec 24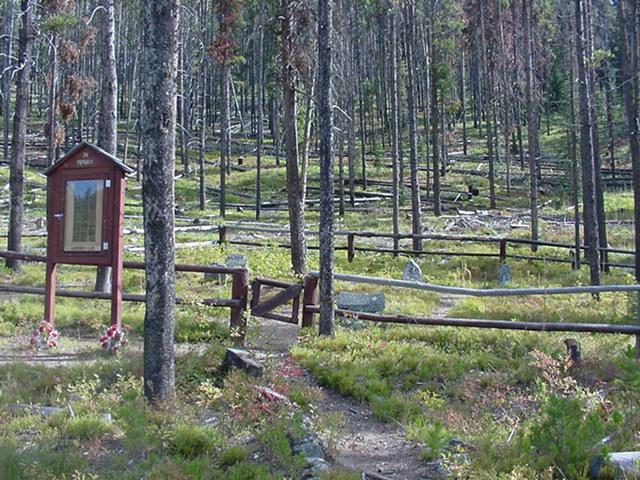 Photo Contributed by Michael "Mags" Shaw, Assistant State Coordinator IDGenWeb
Location: 0.5 miles south of Dixie, on the east side of Crooked Creek. Access by footbridge.
Burials Submitted by: Bill Salmon, Elk City Idaho. March 22, 2004 Photos added by permission of Larry Linehan
James Lynch, miner, froze to death in Dec 1898.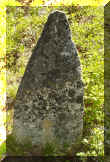 Ike Ward, miner, died Oct 1899.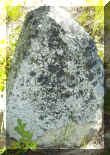 Helen Smith, died sometime between 1915 and 1917. (Accounts differ, but the
headstone says 1915.) She was a black woman born in Fort Worth, Texas. She
came to Dixie from Spokane, attracted by the Thunder Mountain boom after
1900. She liked the area and first worked as a cook at the Comstock Mine, then
in Dixie, working as midwife, nurse, seamstress, laundress, and miner. In the
period 1906-1909, she was owner or part-owner of The Blue Bell Mine, Blue Bell
No. 2, Broadwater, and several other mines. It was said that "She was well
spoken of and true to God in every way."

Samuel Myers, Dec. 5, 1831 - 1923, Salmon River miner, killed in a fall from his horse
on the Salmon River breaks at age 84. He was a Union veteran of the Civil War
and homesteaded for 40 years where the Allison Ranch is today. Myers Creek is
named after him.

Howard Powelson, 1857 - 10 Nov 1930, Dixie resident from 1897 until his death.
He built the Dixie Store in 1911 and ran it until 1925. Then his son Les ran it until 1963.

Dixie Lee Rice, 5 Dec 1934 - 15 Mar 1936, died as a baby in 1936 in a house fire.
She was the daughter of Warren "Chung" Rice and Lucille Rice. Their cabin was
near the Comstock Mine

Unknown: Scattered bones found around 1934 in Dixie Gulch with a bullet hole
through the skull. Some disintegrated clothing and a badly rusted rifle were
nearby. The victim, dead for many years, was never identified. The remains of
his pockets held a few old coins and a wallet containing a newspaper clipping of a
speech by William Jennings Bryant.