FRENCH CEMETERY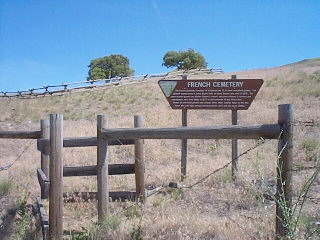 All photos were taken and contributed by
Penny Casey, June 4, 2004
This cemetery sits on the east side of the old highway 95, about 1 1/2 miles south of tje tpwm pf White Bird. On the hill above the old bridge that crosses the river to go to Hammer Creek.(right by the dumpsters) The sign states that there are 3 marked graves and 11 or more unmarked.
The earliest is Anna Mason. 3 of the 11 or more unmarked burials were killed by the Indians, 8 of the unmarked burials are deaths from 1877 to 1900. The sign is right beside the old highway.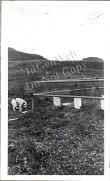 These two photos of the cemetery were recently found in an old scrapbook and are from the early 1940's or 1950's. Click on them to enlarge them.
LAST NAME
FIRST NAME
BIRTH DATE
DEATH DATE
NOTES
PHOTOS
PHOTOS
BACON
AUGUST
1877

no marker

BURLINGHOFF
CHARLIE
1863
February 11, 1900

no marker

Notes for Burlinghoff: The story goes that there was an argument at the local saloon in Whitebird. An old lawsuit between Troy Rogers and Henry Ray in regards to who owned some pigs was brought up. There was still a lot of animosity and hard feelings amongst them.. Henry Ray insulted Charlie's friend, Troy. Charlie then threw a bar stool and Henry. Henry in turn pulled out his six-shooter and shot Charlie in the shoulder and the groin area. Charlie died shortly afterwards. Henry turned himself in to the local law officer. F. Taylor was the Justice of the Peace at that time. He immediately called for a coroner's inquest, himself being the acting coroner. Others that were in the saloon were questioned. Taylor's official decision was that the shooting was in self defense, so he let Henry Ray go.

At the time of his death, Charlie's wife, Lilly Evans Burlinghoff, was pregnant with her fourth son

CHODOZE
FRANCOIS
June 15, 1877
Killed by Nez Perce Indians

no marker

MASON
ANNA
1876
Mrs. Harry Mason - she is believed to be first one buried here. This property overlooked their home.

MASON
HARRY
1831
June 15, 1877
Killed by Nez Perce Indians

MOON
HENRY
1877

no marker

OSBORN
WILLIAM
May 18, 1825
June 15, 1877
Broken marble headstone. "A devoted husband and dearly beloved father was torn from his hapy family by the rude hands of savages. He has gone to a home where peace and happiness prevail"

Killed by Nez Perce Indians

Original stone

This newer stone has been put in place

Footstone

UNKNOWN
no markings - stone is broken