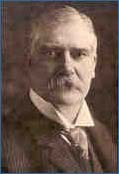 Charles Sweeney
Buffalo Hump Mining District
Elk City, Idaho
When Bert Rigley and Charlie Robbins staked out the Big Buffalo Mine, they started one of the world's last gold rushes. In April 1900, Charles Sweeney, well known in the Coeur d'Alene District, put up a mill on site and work began in earnest. A good wagon road was built from Orogrande, Idaho. A company store, bank and hospital were erected and the town named Callender, after Thomas O. Callender. The Big Buffalo operated for about three years and shut down on March 19, 1903. After that it was purchased by Steve Evans, who operated the mine on a limited basis.
The book, "The Ballyhoo Bonanza" by John Fahey, focuses on Charles Sweeney and the Idaho Mines during the years from 1885 to 1910. This book does not cover the Buffalo Hump mines, but would still be interesting reading, if you want to know more about Sweeney. Charles was a second generation Irish immigrant who ventured westward to seek his fortune after the Civil War and moved to the Coeur d'Alenes during the first wave gold rush in 1883-1884. Sweeney bought up the district's first town site and plunged immediately into the prospecting, speculation, and manipulation that were to characterize his whole career. He was in many ways typical of the self-made entrepreneurs of his day, impulsive, opportunistic, alternatively acquisitive and generous, shrewd and naive. In the book, John Fahey traces Sweeney's circuitous path of buying and selling, organization and reorganization, financial dealing and legal dueling, which enabled him, by 1903, to consolidate most of the major mines of the Coeur d'Alenes into the "Federal Mining and Smelting Company".
There were three different stock certificates issued for the Buffalo Hump. The Buffalo Hump Mining Company was incorporated in the State of New York in 1899 by J.D. Rockefeller. Charles Sweeney became the President of the Company. The Buffalo Hump Development Company and Buffalo Hump Syndicate Company were incorporated in Washington State.
Newspaper Articles about Charles Sweeney & the Hump Mining Coming Soon!
| | |
| --- | --- |
| | 1902 Hump Town |
| | Buffalo Hump Mining Company |
| | Buffalo Hump Development Company |
| | Buffalo Hump Syndicate Company |
| | This is a Ten Year 7 1/2% Gold Bond Issued in 1920 By Idaho-Nevada Consolidated Gold Mines Company - Elk City, Idaho |
| | 1907 Butte & Orogrande Mining Company Limited |
| | 1906 Jumbo Fraction Mining Company |
The Hump Stock Certificate images were submitted by Ernie Jorgenson of Lewiston, who actually has these for sale.
The Gold Bond image was submitted by Penny Casey.
Thanks Ernie!