Justin L. Warden, 81, Grangeville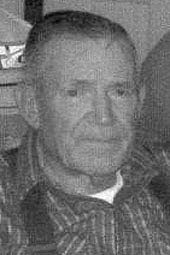 Justin L. Warden, 81, of Grangeville, died Tuesday, April 15, 2008, at the Grangeville Health and Rehabilitation Center of complications from a stroke.
Justin was born March 14, 1927, at Happy Hollow near Grangeville, to John S. Warden and Irma G. Halford Warden. He attended country schools near Grangeville. He went to work for John E. Gortsema after leaving school, then worked at various jobs, including owning the Midway Service Station in the late 1950s and early '60s.
Justin married Elouise Earp in June 1948. They had three children before divorcing in 1962. He married Ella Mae Allen in 1963.
He retired from the Grangeville School District as head bus mechanic in 1988.
He is survived by his wife, Ella Mae, at the family home in Grangeville; two sons, Gene and wife Leslie, and Don and wife Carol of Grangeville; a daughter, Jackie Chaffins of Spokane; stepson, Steve Allen and wife Kathy of Florida; stepdaughters, Lottie Allen of Boise, Marie and husband Bob Snyder of Medford, Ore., Vickie and husband Jim Grainger of Boise; numerous grandchildren, great-grandchildren and one great-great-grandchild; and two brothers, Jack and wife Mary Lou of Weiser, Idaho, and Jerry and wife Marlene of Salem, Ore.
He was preceded in death by his parents; six brothers, Paul, Bud, Jay, Dick, Neil and Monty; and three sisters, Alice Culley, Ruby Randall and Clare Meyers.
Cremation will take place and a memorial service will be at 1 p.m. Wednesday, April 23, at the Blackmer Funeral Home in Grangeville. A gathering will follow the service for family and friends at the family home.
Arrangements are under the direction of Blackmer Funeral Home in Grangeville.
Condolences to the family may be sent to www.blackmerfuneralhome.com.