Hillcrest Cemetery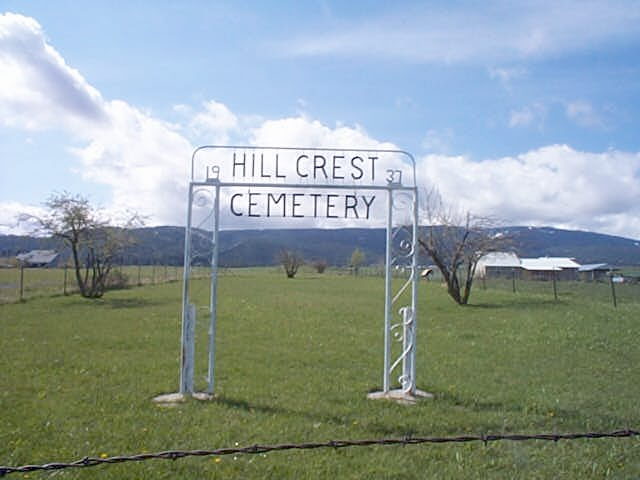 CLICK HERE FOR ORIGINAL PLAT OF CEMETERY FILED IN IDAHO COUNTY COURTHOUSE

CLICK HERE FOR PLAT OF ACTUAL BURIALS
******************************************************************


AKA: County Cemetery, County Burial Plot, Poor Farm Cemetery
Near Grangeville, Idaho County, Idaho
Est. November 20, 1937.

The legal description is as follows: NW1/4 SE1/4 SEC. 21,
T. 30 N.R.3E. B.M. Idaho County, Idaho.
Surveyed and platted November 18-20, 1937 by Walter Hovey Hill,
Licensed Civil Engineer - C.E. 102).

This cemetery is approximately 2 miles east of Grangeville, Idaho on Highway 13, as you head towards the Harpster Grade. The Plat shows it to be 62 ft. wide x 304 ft. in depth. There were 105
original burial sites platted, but only 24 have been used. The original records were found to be in the Idaho County Courthouse, along with the original plat.

In September 1990, Betty Litchfield met with the County Commissioners about cleaning up the old cemetery. The following weekend , Idaho County Commissioner Harry Owens, Idaho County Sheriff Randy Baldwin and Grangeville resident Floyd Litchfield cleaned up the cemetery. Harry Owens, Floyd Litchfield and Clara Smith all donated money to help pay for the backhoe work that needed to be done. They also all donated paint for the sign that was donated. A family that has a relative buried there donated the sign. I do not know who this family was, if anyone out there does, please forward it so that we can give them credit and thank them.

There were once wooden markers, but they have not survived the yearly burnings of the wheat fields. Some of the graves now have metal plates marking the graves, I have taken photos of a few of them. As of August 12, 1993, the Grangeville Cemetery District took the cemetery into their District and will take care of the upkeep. The graves are now all marked with numbers. Most of the burials there were from the County Poor Farm, which was right down the road, but there were also a few other burials. The first burial was in January 1938, the last known in 1943 (still researching). Does anyone out there know why they stopped using it? I have found 8 obituaries showing burials here . As I get more from the Idaho County Free Press I will add them. The first 15 burials are along the east side of the fence. There are three graves in the middle and then one more that we are unsure of it's placing. Some of the original research was completed by Clara Smith. There has since been more research done by Betty Farris Litchfield and myself, Penny Bennett Casey.

There is a copy of the Plat and records at Nolan Funeral Home in
Grangeville, at the Genealogical Society in SLC , and also with Mike Bear, the
Sexton of the Grangeville Cemeteries.
**Please note: Even though someone may have been buried at this cemetery, it did not necessarily mean they lived at the Poor Farm. This cemetery was also just a county plot. So listings here and obituaries on the Poor Farm page may be different. Please check both places if you are trying to find someone.
Information has recently came to my attention that there was at one time marble headstones for some of the burials, but the original land owner took them out and farmed the ground. It is rumored that he used the stones in the foundation of his old barn. So, they may still be around. It would be wonderful if we could find them. I know where they were placed, so will do some research with the owner of the property and keep you informed.

The photos are watermarked. If you are a family member and would like a "clean" photo please send me an email and I would be happy to provide you with one for your records.

Click on the photos for larger views

The burials are not in alphabetical order. They are in the order they are in the row.

Plot

Last Name
First Name
Born
Died
Notes
Photo

1
Schworer
Joe (Trapper Joe)
Nov 18, 1858
Jan. 4, 1938

This was the first burial in the new County Cemetery.

Ailor Funeral Home records state he was age

79 yrs, 1mos, 13 days old Obituary

2
Schullen
Carl
July 5, 1938

3
Bausher (Bousher)
Henry

Aug. 26, 1938

4
Hock (Hawk)
Joe (Charles)
1880
Oct. 12, 1938

This is believed to be Charles Hawk. Ailor Funeral Home records say the death date was Oct. 13, 1938 Obituary

5
Milton
Jack
Nov. 19, 1873

Oct. 18, 1938

Ailor Funeral Home records state his birth date, and born at Bartlett, Texas. He was a resident of Stites, Idaho

6
Rice
Herbert
1861
May 18, 1939
Born in Vermont

7
Adamson
Jonathan "Jack"
Jan. 20, 1871
Aug. 8, 1939
Born in Kentucky (date on marker is incorrect, that is the date he was buried.) He was 68 years old.

8
Swasey
John
Abt. 1876

Dec. 7, 1939

9
Stewart
George
Abt. 1854
Dec. 18, 1939

10
Baur
James
Feb. 13, 1940

11
Capwell
George
May 15, 1940

12
Gebert (Gibbert)
John
1857
May 23, 1940

Age 83

Born in Ohio

13
Mulolland (Mulballand)
Infant


Ailor Funeral Home records state this child was born and died at Orogrande, Idaho.

14
Leitch
Allen
June 10, 1940

15
Halford
Charles
July 9, 1940

16
Mulolland (infant)
Infant
1940
Aug. 27, 1940

Ailor Funeral Home records state this child was born and died at Orogrande, Idaho. Father Peter Mulolland, Mother Freda Halfer.

17
Schrader
John

18
Crook
Berk

19
Gribi
Frederick
March 29, 1941

20
Mitchell
David Leonard
Aug. 24, 1869
Sept. 30, 1941
Born in Switzerland

middle
Potter
James
1873
Apr. 2, 1943
Born in Kansas

middle
Gribbe (Gribi)
Ernest
1867
March 23, 1943
76 years old Born in Switzerland

middle
Unknown

21
Unknown

Coolidge
James S.
Nov. 4, 1944
This came from the Ailor Funeral Home records. This person was not in the courthouse records. He was 69 years old. Could possibly be one of the "unknowns"